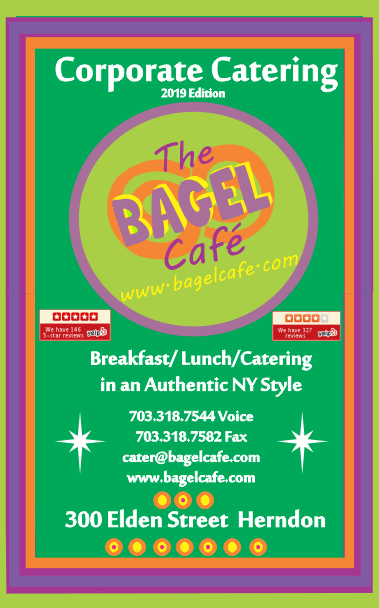 Bagel & Cream Cheese Basket

Muffin & Breakfast Pastry Basket

Breakfast Sandwich Platter

Mini-Muffin or Mini-Danish & Fruit

Fresh Fruit Platter

Greek Yogurt Parfait and Berry Bar

Smoked Fish Platter

Breakfast Wraps

Country Breakfast

Frittatas or Quiches
A la Carte Items

Assorted Bagels

Assorted Baked Goods

Mini-Muffins

Plain Cream Cheese

Flavored Cream Cheese

Platters w/ Lids

Setups (Cups, Service Utensils, Plates and Napkins)

Small Basket with Cellophane Wrap

Small Basket with Gift Wrap

Panache Gourmet Coffee

Xanadu Tea

Nantucket Nectar

Hors D'Ouevres Platter

Vegetable Basket

Fresh Fruit Platter

Fruit & Cheese Platter

Bagel Cafe Canapιs

Homemade Soups

All of our Entree Salads are served "family-style" in serving bowls. They may also be presented in individual containers, like Box Lunches at an additional charge of $1.00 per person.
All Entree Salads are served with Fresh Baked Rolls, Butter and your choice of dressing.

Cobb Salad

Tuna Nicoise

Mediterranean Chicken

Grilled Chicken Taco Salad

Classic Chef Salad

Grilled Chicken Caesar Salad

Served with Fresh-Baked Milano Baguettes & a Bagel Cafe tossed Salad w/your choice of Dressing. Please Note: 24 Hour Notice Required and 10 Person Minimum for all Hot Entree Items.

Lasagnas or Baked Pastas

Chicken Tetrazzini

London Broil

Southern Beef BBQ

Greek Chicken Casserole

Steak and Cheese Buffet

Southwestern Fajita Buffet

Stuffed Turkey Breast w/Basil

Your-Way Chicken

Chilis, Gumbos, and Stews

Vegetarian Offerings


Wrap Combos or Rollups

Box Lunches

Bagel Cafe Sandwiches

Mini-Sandwich Platter

3-Foot Subs

Specialty Combos

Pita Pocket Platter

Deli/Homemade Salad Platter

Side Salads

Assorted Cookie Platter

Brownie Platter

Sweet-Treat Platter

Black & White Cookie Platter

All Mixed-Up Platter

Luscious Cakes

Afternoon Tea Service

Homemade Puddings and Crisps